Capturing the Love Between Mother and Baby
Welcome to Uniquely Yours Photography, a high-end boutique photography studio offering maternity photography services in New Orleans. Carrying your baby for nine months is quite a journey. We make it our mission to preserve those precious moments while you wait for your little one to come.
We also do underwater portraiture. Our team will transform you to a glam goddess with full-service styling using props, gowns, makeup, and hairstyling.

Our clients deserve unique and eye-catching photos and videos that are just as unique as their story and familial bond. We strive to make the overall experience stress-free, luxurious, and enjoyable for you and your partner.
Underwater photography is a one-of-a-kind and challenging art form. Portraits and maternity shoots are particularly popular, as they allow for beautiful and otherworldly images. There's a certain ethereal quality to them—the way the light filters through the water, the way the subject seems to float weightlessly.

Shooting underwater has its own set of challenges, from managing buoyancy to dealing with refraction. Rest assured that you're in the good hands of a professional photographer who will guide you every step of the way to achieve breathtaking results.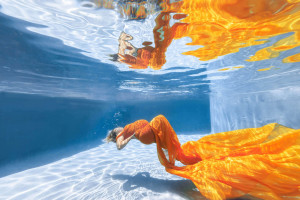 Pregnancy is a time of anticipation and excitement. However, it's also a time when many women feel overwhelmed about the changes in their body. These changes may be both good and bad; after all, pregnancy isn't all rainbows and sunshines.

Whatever insecurities, pains, and doubts you may have, pregnancy can also be a time of self-discovery and acceptance. As your body changes to accommodate new life, you often come to appreciate your own beauty in a new light. By capturing the beauty and joy of pregnancy, maternity photographers help to create lasting memories that can be treasured for a lifetime.
In addition, maternity photography can also be used to capture the unique bond between mother and child. With its ability to capture the miracle of life, it's no wonder that maternity photography is such a cherished way to preserve the memories of pregnancy.
Browse our portfolio to see our most stunning photographs.
Consultation
During our consultation, we will discuss your vision and goals. These include the style or them you're going for, who and what will be included in the shoot, and your expectations.
The Reveal
Approximately three weeks after your session, we will meet again and reveal the results to you. You will see your photos for the first time and decide which ones you'd like to purchase.
.
During the Shoot
When you arrive at our boutique photo studio, our team will give you a makeover and set everything up. You will be treated and pampered like royalty throughout the session. Our photographer is courteous, talented, and experienced.
Although we're located in New Orleans, we can travel to other location for your convenience.
Get to Know Your Photographer
Jordan Caldwell created Uniquely Yours Photography with the strong belief that photos and videos tell a story. A picture is worth a thousand words, they say. And it's true—a good photograph or video can tell a story, evoke emotions, and capture a moment in time that might otherwise be forgotten.
It's a way of looking at the world through someone else's eyes, and of seeing beauty in the everyday. Whether it's a candid snapshot or a meticulously composed portrait, a good photograph has the ability to transport us to another place and time, and to remind us of what matters most.

Jordan realized that he wanted photography that gave clients the "Unique Beauty" experience. He found that this was possible through maternity photography—a modern art-inspired shoot for women. You can depend on him to bring out a woman's true elegance, strength, and beauty during one of the most important journeys of her life.